GMC Sierra Owners Manual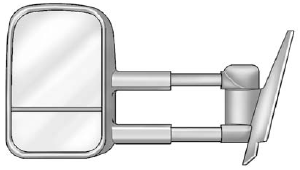 If the vehicle has towing mirrors, they can be adjusted for a clearer view of the objects behind you.
Manually pull out the mirror head to extend it for better visibility when towing a trailer.
The lower portion of the mirror is convex. A convex mirror's surface is curved to see more from the driver seat. The convex mirror can be adjusted manually to the driver preferred position for better vision.
The mirror may have a turn signal arrow that flashes in the direction of the turn or lane change.









© 2022 www.gmcmaster.com. All Rights Reserved.