GMC Sierra Owners Manual
Headlamps, Front Turn Signal, Sidemarker, and Parking Lamps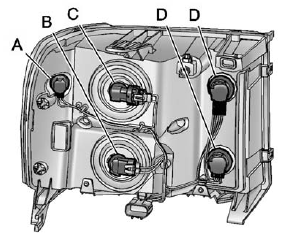 A. Side Marker Lamp
B. Low-Beam Headlamp
C. High-Beam Headlamp
D. Park/Turn Signal Lamp
1. Open the hood. See Hood on page 10‑5 2. If you are replacing the bulb on the passenger side, remove the Engine Air Cleaner cover. See Engine Air Cleaner/Filter on page 10‑17 for more information.
3. Reach in and access the bulb sockets from inside the engine compartment.
4. Turn the bulb socket counterclockwise to remove it from the headlamp assembly and pull it straight out.
5. Unplug the electrical connector from the old bulb by releasing the clips on the bulb socket.
6. Replace it with a new bulb.
7. Plug in the electrical connector.
8. Reinstall the new bulb socket into the headlamp assembly and turn it clockwise to secure.









© 2022 www.gmcmaster.com. All Rights Reserved.