GMC Sierra Owners Manual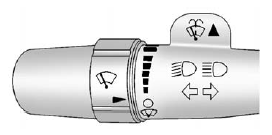 Windshield Wiper/Washer
The front wiper control is located on the turn and lane-change lever.
The windshield wipers are controlled by turning the band with

on it.

: For a single wipe, turn to

, then release. For several wipes, hold the band on

longer.

: Turns the windshield wipers off.
: Turn the band up for more frequent wipes or down for less frequent wipes.

: Slow wipes.

: Fast wipes.

: Push the paddle at the top of the lever to spray washer fluid on the windshield.
See Windshield Wiper/Washer on page 5‑5.









© 2022 www.gmcmaster.com. All Rights Reserved.