GMC Sierra Owners Manual
Remote Keyless Entry (RKE) System
The RKE transmitter is used to remotely lock and unlock the doors from up to 60m (195 ft) away from the vehicle.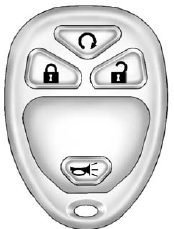 : Press to unlock the driver door.
Press
again within three seconds to unlock all remaining doors.

: Press to lock all doors. Lock and unlock feedback can be personalized. See Vehicle Personalization (With DIC Buttons) on page 5‑52.

: Press and release to locate the vehicle. Press

and hold for more than two seconds to sound the panic alarm. Press

again to cancel the panic alarm.
See Keys on page 2‑2 and Remote Keyless Entry (RKE) System Operation on page 2‑3.









© 2023 www.gmcmaster.com. All Rights Reserved.